An outstanding plan is essential in the super-fast world of selling stuff online. That's where "The Wholesale Formula Course" comes in.
It's a remarkable course made by Dan Meadors and Dylan Frost.
They started with a little bit of money.
They built a vast business, selling over $36 million on Amazon Wholesale since they began in 2015.
I will give you the inside scoop on The Wholesale Formula review in this guide. Let's start!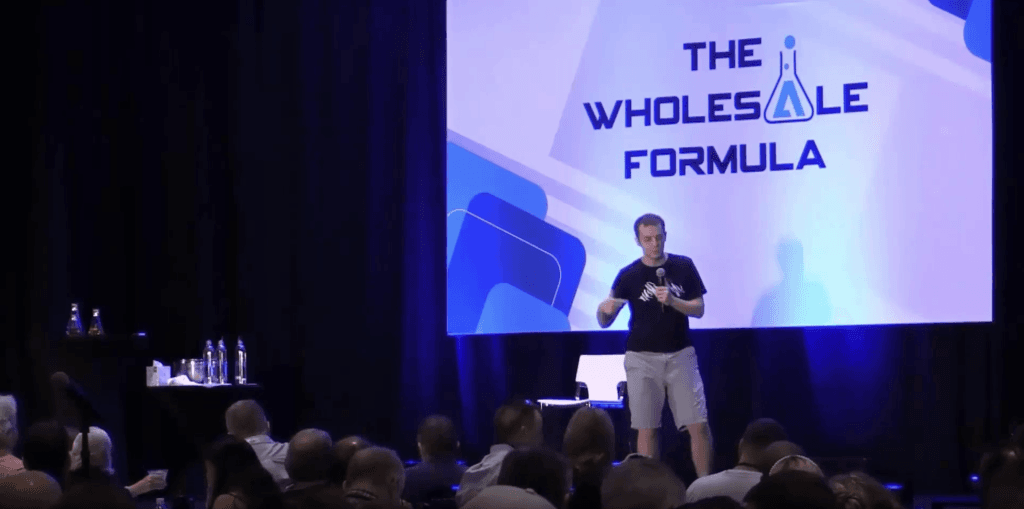 The Beginning of The Wholesale Formula
In the early days, the selling wholesale business model was quite different.
The Wholesale training program came with a fresh approach called reverse sourcing wholesale, changing the game entirely.
It was crafted by visionaries Dan Meadors and Dylan Frost, who used their deep understanding of the Amazon marketplace to teach others the secrets to success.
Over the years, the course has only improved, adapting to the fast-paced changes in online selling, with the 2023 update being the most comprehensive yet.
Exploring The Wholesale Formula Course
Let's take a closer look at The Wholesale Formula course!
It's like a giant puzzle with different pieces, each teaching you something important about selling stuff in bulk with their wholesale sourcing strategy.
Let's see what each part of the puzzle can teach us!
Module 1: Orientation (Setup)
Your First Steps with The Wholesale Formula Program
Before jumping in, let's get to know the place we will explore.
This part of the course gives you a sneak peek of the exciting journey ahead.
Learning About the World of Wholesale
Selling things in bulk can be like a big adventure game, where having the right tricks up your sleeve can help you win.
Here, you'll learn all the extraordinary secrets of being a wholesale winner.
Setting Up Your Shop on Amazon Wholesale Account
Imagine having your little shop on the big Amazon website!
Once you have the Amazon Seller Account, you can set up your shop step by step to confidently start your online sales.
Module 2: Picking the Best Products (Product Analysis)
Selling stuff in bulk means you have to know your products well.
In this part of The Wholesale Formula, you'll learn the secrets to picking products people will love buying.
Finding the Golden Products
Picture a room full of treasure chests, each one holding a super cool product that can make you start making money.
This part of the course is your treasure map, showing you how to find those golden products that can turn your business into a treasure trove.
Using The Wholesale Formula's Magic Tool
Guess what?
The Wholesale Formula course has a magic tool that makes finding the best products a breeze!
In this part, you'll learn how to use this tool to find the best stuff to sell, making your wholesale business journey smooth and easy.
Choosing Products That Will Shine
Only some products are a star, but Dan and Dylan show you how to find the ones that are!
This part guides you to pick products that have the power to be super successful, helping you build a business that's full of star products.
Module 3: Scouting (Becoming a Product Detective)
Dan will bring you step into the exciting world of scouting.
It's where you put on your detective hat, searching for products that resonate with your brand and audience.
Let's explore this further.
Mastering the Reverse Sourcing Wholesale Strategy
Imagine flipping the traditional sourcing strategies upside down.
The reverse sourcing wholesale strategy is all about creating a less trodden pathway but more successful.
We walk you through this strategy step by step, ensuring you master a skill that stands as a game-changer in the Amazon wholesale industry.
Building a Robust Scouting Workflow
A well-oiled machine runs smoothly, and your scouting workflow is no different.
In this section, Dan Meadors & Dylan share tips and strategies to build a robust and efficient workflow, helping you save time and resources as you scout for the best products in the market.
Leveraging Online Tools for Efficient Scouting
In a world where time is money, efficiency is critical.
Here, Dan and Dylan Frost introduce you to online tools that promise to make your scouting journey smoother and more efficient, offering you a competitive edge in a constantly evolving market.
Module 4: Value Propositions (Making Great Deals)
Here, Dan Meadors and Dylan come to a super important part where you learn how to make great deals everyone likes.
Let's find out how to make deals that not only make suppliers happy but also help in making strong friendships.
Creating Compelling Value Propositions
Making a great deal is like telling a super exciting story that suppliers can't resist.
In this part, you'll learn how to tell that story in a way that makes suppliers want to work with you, creating deals that are a win-win for everyone.
Standing Out in the Competitive Wholesale Market
Imagine being the most colorful fish in a big sea full of fish.
That's what they want your business to be!
Here, you'll learn to be different and memorable so your business stands out and shines in a busy market.
Building Strong Relationships with Brands
Building relationships is at the heart of a thriving retail arbitrage business.
In this section, Dan and Dylan Frost delve into the nuances of building relationships with brands, sharing tips on fostering mutually beneficial connections and paving the way for a successful Amazon business journey.
Module 5: Wholesale Sourcing
Dan and Dylan Frost find themselves at the heart of the Amazon business – Wholesale sourcing.
It's where dreams are forged, and partnerships are born.
The Wholesale Formula's Approach to Sourcing
Imagine having a detailed roadmap steering you towards the best sourcing avenues.
The Wholesale Formula offers just that;
They'll share the secrets behind successful sourcing.
Offer a glimpse into strategies that have stood the test of time,
Helping students find their golden ticket in the business.
Negotiating Deals with Suppliers: Tips and Strategies
Negotiation is an art and the stage for a fruitful relationship.
Dan Meadors and Dylan offer you a handbook of tips and negotiate lower prices strategies, a guide to navigating the complex waters of negotiation, making the best deal with suppliers, and ensuring everyone leaves with a smile.
Building a Sustainable Sourcing Strategy
Moving on, you'll learn how to make a plan that works today and forever!
Dan Meadors and Dylan will guide you on creating wholesale strategies that can adapt and grow, always helping you find the best stuff to sell, no matter what comes in the future.
Community and Support
It's all about accountability!
As we step into the community and support section, a place where like-minded individuals come together, sharing experiences and forging paths to success.
Let's explore this nurturing environment further.
How the TWF Family Helps You Win?
Imagine having great people ready to help and cheer you on.
That's what the Wholesale Formula community is all about!
Here, they'll tell you how being a part of this family can be your superpower, helping you with advice and lots of encouragement every step of the way.
Learning from the TWF Graduates
Guess what?
A particular group of people has already succeeded with the help of The Wholesale Formula and are eager to share their secrets with you!
In this part, we'll show you how to learn from these graduates, getting tips and stories to guide you to success.
Real Success Stories from TWF Alumni
Let's hear from real heroes who used The Wholesale Formula to make their dreams come true!
We'll share their stories to show you can do it, inspiring and hoping for your exciting journey.
Wholesale Formula Bonuses
Dan Meadors and Dylan Frost offer a special place with extra gifts and super helpful tools just for you!
Wholesale Formula has packed this area with awesome stuff to help you with your Amazon business.
Exploring the Bonuses Offered in The Wholesale Formula
Imagine finding a secret box with unique surprises to help you in your business adventure.
That's what this section is all about!
Meadors and Dylan Frost will take you on a fun tour to discover all the unique gifts that are waiting to be your helpers to become successful Amazon sellers.
The VA Launchpad: Your Super Helper for Business
Running an Amazon business is busy work.
But what if you had a super helper?
The VA Launchpad is here to be just that! It's a tool that helps you keep things organized and saves you so much time, which is super important!
Special Discounts For The Wholesale Formula Students
You can enjoy special discounts on premium tools that significantly help your wholesale Amazon business.
Dan and Dylan show you all the awesome stuff you can get at a lower price, helping you save money and succeed in your wholesale formula training.
How Much The Wholesale Formula Cost
Is investing in a wholesale formula worth it?
I always find myself pondering the investment involved.
This section allows me to delve deep into The Wholesale Formula workshop price and value proposition, offering detailed insight to aid your decision-making process.
(###Add more)
The Wholesale Formula Reviews: What Are Students Saying?
As we delve into reviews, we bring unfiltered voices, sharing both praises and critiques, offering you a panoramic view of student experiences and guiding you to gauge the pulse of the TWF community.
(###video)
Final Thoughts
As I write my final thoughts, is this the best Amazon wholesale course?
Yes! If not, I wouldn't spend time doing research and writing this review.
I share my recommendations, offering insights grounded in research and real-life experiences, promising to be a guiding light as you stand on the threshold of a potential journey into wholesale business.
(###not clear)
FAQs
Who are the creators of The Wholesale Formula?
The Wholesale Formula was created by Dan Meadors and Dylan Frost, experienced entrepreneurs with a successful track record in the business.
How much does the Wholesale Formula cost?
(###text)
What is the primary teaching strategy of The Wholesale Formula?
The Wholesale Formula primarily employs a reverse sourcing wholesale strategy, teaching students how to find and negotiate with suppliers to source high-potential products.
What kind of community support does The Wholesale Formula offer?
The Wholesale Formula offers a vibrant community where students can connect with peers and experienced alums for support and networking.
Are there any bonuses available with The Wholesale Formula?
The Wholesale Formula offers bonuses, including the VA Launchpad, and exclusive discounts on premium tools to enhance the learning and business growth experience.
What is the pricing structure of The Wholesale Formula?
The Wholesale Formula has a transparent pricing structure, detailed on its official website, to help prospective students make an informed financial decision.
Does The Wholesale Formula have a refund policy?
The Wholesale Formula typically offers a 30-day money-back guarantee, allowing students to explore the course risk-free.
Can I find real success stories from The Wholesale Formula alums?
Yes, The Wholesale Formula showcases real success stories from alums on their official website, offering insights into the transformative impact of the course.
What are the terms of service for The Wholesale Formula?
The terms of service for The Wholesale Formula, outlining the usage policy, confidentiality, and other essential aspects, are available on their official website.
How does The Wholesale Formula assist in product sourcing?
The Wholesale Formula provides detailed guidance on building an efficient scouting workflow, leveraging online tools to streamline the process of product sourcing.
What value does The Wholesale Formula offer to prospective students?
The Wholesale Formula offers a rich learning experience with a detailed curriculum, a supportive community, and tools designed to provide a high potential ROI, setting students on a path of growth and profitability in the retail arbitrage business.